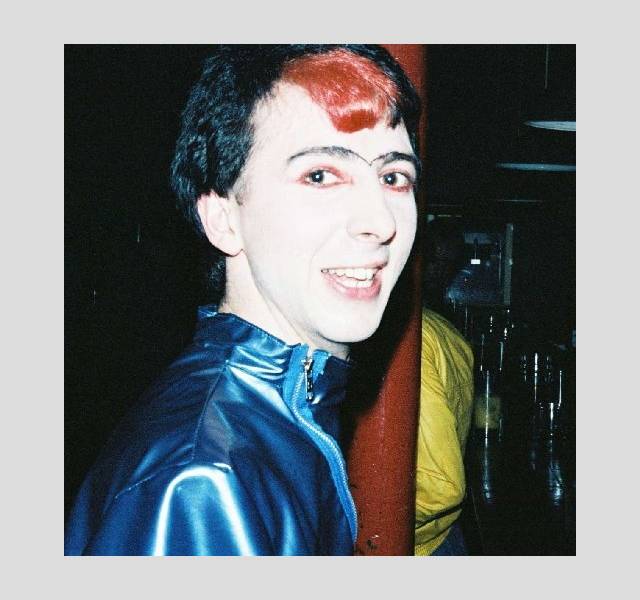 Soft Cell
are an English synthpop duo who came to prominence in the early 1980s. They consist of vocalist Marc Almond and instrumentalist David Ball.
Soft Cell was initiated during 1978 after Almond and Ball met at Leeds Polytechnic. Their initial efforts at recording resulted that year in an EP titled Mutant Moments which was funded by a loan of £2000 from Dave Ball's mother and made with a simple 2-track recorder. 2,000 vinyl copies of the release were issued independently and the small number of copies have since become a highly valued collectors item. The group's live shows and EP caught the interest of certain record labels such as Mute Records and Some Bizzare Records.
http://en.wikipedia.org/wiki/Soft_Cell
Mutant Moments
is a short EP, independently financed and produced by Soft Cell, a synthpop/new wave duo who would later achieve fame with their groundbreaking hit cover of the Gloria Jones song "Tainted Love". Only 2000 copies were pressed, originally by Soft Cell, on Big Frock Records, then later by a Japanese fan club, making the record extremely rare and prized by collectors and fans alike. The duo, who attended Leeds Metropolitan University, originally developed a cult following with their performances which routinely included bizarre sexual imagery and visuals representing sexual themes. Some examples include instances where singer Marc Almond would smear his body with cat food, simulate sexual intercourse with a full-length mirror, or appear onstage in drag.
The band was signed to Some Bizzare Records soon after its release, with "The Girl With The Patent Leather Face" being released on the Some Bizzare Album and later a 7" single "A Man Can Get Lost" and 12" single "Memorabilia", both being released the following year.
The EP includes the song "Frustration," which also appears on their full-length studio album Non-stop Erotic Cabaret, though the two versions sound very different. The other three songs from the EP also appear on the rarities/bootleg compilation The Bedsit Tapes.
http://en.wikipedia.org/wiki/Mutant_Moments
Credits
Other [Visuals]

– Steven Griffith

Synthesizer, Tape [Tapes], Electronics

– David Ball

Vocals, Performer [Synthetic Scratch]

– Marc Almond

Written-by [All Titles]

– Soft Cell
Only 2000 copies were pressed and all were issued with a postcard.
The unofficial reissue has plain red and green labels without titles, comes in black and coloured vinyl and has a wraparound sleeve.
© 1980
Dist. by Red Rhino Records
Runout:
Side A: D1 / 6 I / (Digit scratced out) ABF - 1A
Side B: D1 / ABF - 1B
Track times not on release.
http://www.discogs.com/Soft-Cell-Mutant-Moments-EP/release/478898
Let's go back to 1980s Leeds. Marc Almond and David Ball were both art students and got together to write music for theatrical productions. It was actually a self-financed EP called Mutant Moments that kickstarted their chart career. Funded by a loan of £2,000 from David Ball's mother (a very wise investment) the boys, under the name Soft Cell had 2000 vinyl copies pressed. Copies of this EP are now highly prized collector items.

The EP brought Soft Cell to the attention of the head of Some Bizzare Records who had bands such as Depeche Mode and The The signed to them. He then enlisted Daniel Miller (founder of Mute Records) to produce their first singles - 'A Man Can Get Lost' and 'Memorabilia'.
lou16
http://lou16.squidoo.com/soft-cell
Soft Cell could always guarantee a good turn-out from the fine art students. The audience was also bolstered by those lingering ex-students who couldn't quite break away from our state-sponsored lunatic asylum.
Before the show, Almond mingled with his audience dressed in a black dinner jacket. The Poison People were laughing loudly, already high on narcotics as Russ and I downed our glasses of foul orange liquid. Other fine art musso's propped up the bar and we sniggered to ourselves as Marc snubbed the socialites desperate attempts to engage him in conversation.
At that time, Soft Cell were very much an avant garde cabaret act. It was inconceivable that they would ever break into mainstream pop music and have the biggest selling single of 1981.
Frank Sinatra's 'Mac the knife' set the scene for an evening of camp posturing. The light show was really professional. They had a neon sign at the front of the stage that had been made by Nottingham stage-set designer, Huw Feather. This bore the legend 'Soft Cell' and was flanked by two large projection screens. The screens hosted Griffith's 8mm movies of Marc prancing outside the Merrion Shopping Centre in women's clothes and make-up. The colour was really garish and in stark contrast to the group's black attire.
Dave Ball's discordant basslines, car-horn chords and Blackpool pier melodies were the perfect backdrop for the dwarfish front-man. Charged with nervous energy, Marc was like one of those seaside laughing sailors, rolling around in a glass box, limbs flailing all over the place. His echo-machine gave up just as he was launching into 'Girl with a patent leather face'. Russ was red-faced with laughter as vitriolic lyrics cut through the mix, Dalek fashion, sharp as a knife.
Next, one of the cine projectors failed, leaving half the set in darkness whilst Griffiths tugged away at various live cables. It was pure theatre, but Marc and his four-track reel-to-reel just kept on turning until the set was over.
At three o'clock in the morning, the club finally turned out its mawkish clientelle into the heart of Leeds' red light district. Russ and I then had the prospect of a five mile hike to the Halls of Residence in Beckett Park. By the time we got back, my feet were on fire and my head hit the pillow
like a lump of lead.
Tomorrow's Brancussi lecture was definitely off!