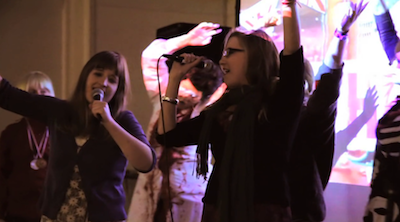 The rumours are true!
You can get your AGK on this Friday 13th 7-10 at Roseangle Arts!
For four years Yuck 'n Yum became famous for its AGK (Annual General Karaoke). A video competition that asked artists not only to sing Karaoke but make their own Karaoke video too!
As part of this years
NEoN Digital Arts Festival
(@weareneon) we are holding an AGK retrospective… come along and sing along to one of the many videos in our archive. There will be a couple of new commissioned vi
ds too!

Maybe you want to sing along to the 2013 winner, Lewis Den Hertog's Karaoke video for "The Future" by Leonard Cohen:
The Future (2013 AGK WINNER!)
from
yucknyum
on
Vimeo
.