Chris & Cosey
, now performing as
Carter Tutti
, are a band formed in 1981, consisting of partners Chris Carter and Cosey Fanni Tutti, both previously members of industrial music pioneers Throbbing Gristle.
http://en.wikipedia.org/wiki/Chris_%26_Cosey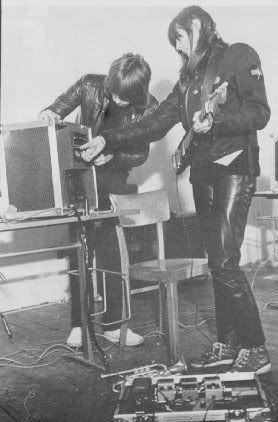 In one of their early post-TG chapters, Chris & Cosey's "Heartbeat", among many such examples of the time, demonstrates the immediate beauty and the power of synthetic minimalism. 1981 was a truly magic year, providing interesting, naively menacing electronic soundtracks for people willing to accept and participate in a sound adventure.
In "Heartbeat" partially lays the answer why we continue to love Throbbing Gristle's records just the same - if it wasn't for Chris Carter's electronic pulse with a twist, soothing if not always that optimistic in its overtones, I guess some of TG records wouldn't be complete or even interesting in that matter. This way, Carter's synthetic trademarks do inform and reward the listener when hopelessly disturbing sound kicks in - whether on a TG or C&C record.
Crijevo
http://www.discogs.com/Chris-And-Cosey-Heartbeat/release/313392
Well, it wasn't called "avant-garde" for nothing. Makes you reconsider how groundbreaking the rave scene of the late-80s/early 90s was - not much compared to this example from 10 years earlier. Brings together 70s analog ambient sounds (á la Tangerine Dream), european dance (Moroder) and turns it into trance.
gotofritz
http://rateyourmusic.com/release/album/chris_and_cosey/heartbeat/
The rather uninspiringly named duo of Chris and Cosey, sound like Throbbing Gristle without Genesis and Sleazy. Which means less nasty, less terrifying, but, more electronic and more instrumental. More influential but less interesting than the other offshoots of TG.
Nonetheless an important and early influence on techno-pop and minimal wave music of the 80's and of the future; hence the many re-releases this volume has received over the ensuing decades.
Chris Carter keeps treading the same techno-obsessed path he had walked since the mid-seventies, backed by the usual found sound speech extracts, and Cosey's trumpet and guitar make several timely appearences.
http://dieordiy.blogspot.co.uk/2011/09/chris-and-cosey-heartbeat-rough-trade.html
The album was the first of C&C's post-Throbbing Gristle missives which would define the electro and synthpop underbelly of the 1980s and cast a towering shadow of influence over so much machine made music to come, from Juan Atkins and Drexciya to successive waves of synth music ever since. 'Heartbeat' established the duo outside of TG, further developing the careening sequencer settings which Carter had welded into the band, and feeding into a new wave of post-punk pop with uncompromising minimalist aesthetics and a darkly crooked intent. Between the sinister baroque paean 'This Is Me' and the foundational electro of the title track, these eleven tracks form a shadowy cornerstone of unterwelt electronic pop and dance music, and should be considered as creatively important as Kraftwerk's 'Computer World' or Human League's 'The Dignity Of Labour'. We really can't overstate this - you NEED this album in your life.
http://boomkat.com/vinyl/350047-chris-cosey-heartbeat