Sotileza [Subtlety], 1928

Francis Picabia born Francis-Marie Martinez de Picabia, 22 January 1879 – 30 November 1953) was a French painter, poet, and typographist, associated with Cubism, Abstract art, Dada and Surrealism.
In 1925, he returned to figurative painting, and during the 1930s became a close friend of Gertrude Stein. In the early 1940s he moved to the south of France, where his work took a surprising turn: he produced a series of paintings based on the nude glamour photos in French "girlie" magazines like
Paris Sex-Appeal
, in a garish style which appears to subvert traditional, academic nude painting. Some of these went to an Algerian merchant who sold them on, and so Picabia came to decorate brothels across North Africa under the Occupation.
http://en.wikipedia.org/wiki/Francis_Picabia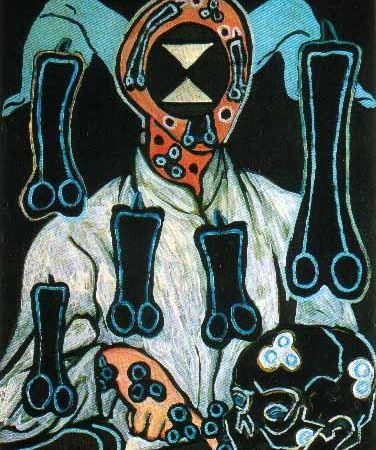 Portrait of a Doctor (1935-36)
Figurative imagery was central to Picabia's work from the mid-1920s to the mid-1940s, when he was inspired by Spanish subjects, Romanesque and Renaissance sources, images of monsters, and, later, nudes found in soft porn magazines. Initially he united many of these disparate motifs in the
Transparency
pictures (c.1928-31), complexly layering them and piling them on top of each other to provoke confusion and strange associations.
Some critics have described the
Transparencies
(c.1928-31) as occult visions, or
Surrealist
dream images, and although Picabia rejected any association with the Surrealists, he steadfastly refused to explain their content. Picabia always handled these motifs with the same playful and anarchic spirit that had animated his Dada work.
Jin Jung






















Espagnole (1926-28)
These pretty-as-a-picture-postcard images depict voluptuous Spanish women and elegant toreadors. In one painting, Espagnole (1921-2), a cigarette dangles from the lush mouth of a sexy señorita (complete with sensuous brown eyes, kiss-curl, black mantilla crown and a perfectly positioned beauty mark above her lips) who exhales a faint question mark of smoke.
While Picabia exaggerated the seeming falseness of these kitsch paintings by denying his authorship, sometimes claiming they were outright 'fakes', he perversely hung his 1922 exhibition in a way that deliberately emphasised their fantasy-born beauty. Appearing to turn their backs on his machine-inspired paintings, the portraits seduce the eye with their alluring glances, drawing you away from the works that (Pompidou curator Jean-Jacques Lebel) describes as 'essential' to the show.
Laurie Attias
http://www.frieze.com/issue/review/francis_picabia/
Suzanne, 1946
From the early 1940s are images appropriated from such magazines as Paris Sex Appeal, executed in an amateurish style copied from how-to-paint books. By the end of the decade, Picabia was producing bizarre abstract and semiabstract works, such as the contemporary-looking Suzanne from 1946, with its biomorphic central figure and spray-painted blotches.

Whether horrendous or divine — and there are both in this show — Picabia's later works make a lot of new art seem either rigidly correct or provocative to no real purpose. Perhaps what the art world needs today is a salutary dose of his genuine brand of anarchism.
Anne Doran
http://www.michaelwerner.com/news_144.htm
Lunis, 1929-30
Francis Picabia approached the ancient world the same way he did the modern one (and everything in between) -- which is to say, with ironic skepticism. That's why Picabia is the one whose paintings speak most forcefully to the present.
From 1927 to the early 1930s Picabia made large, loopy paintings that he called "transparencies" -- thinly painted but densely layered images drawn from Baroque sculptures, Greek and Roman mythology, Renaissance art, frescoes found at Pompeii and more. These paintings, often executed on wood panels and emphasizing linear contour drawing, are like double, triple, even quadruple exposures in a camera's film. Each is the visual equivalent of an archaeological image-dig in which -- as a quote by the artist at the show's entry has it -- "There is no antiquity."
What there is instead is only the present, a tangled bramble that has grown wild through accumulating centuries. Art's power partly arrives from the fact that, even if it's a couple of thousand years old, it still speaks whenever someone living looks at it.
Christopher Knight
http://latimesblogs.latimes.com/culturemonster/2011/11/art-review-modern-antiquity-picasso-de-chirico-getty-villa.html
Portrait de Suzanne, 1941