Illustration pour Histoire d O-Pauline Reage
, 1968
Leonor Fini
(August 30, 1907 – January 18, 1996) was an Argentine surrealist painter.
Born in Buenos Aires, Argentina, she was raised in Trieste, Italy. She moved to Milan at the age of 17, and then to Paris, in either 1931 or 1932. There, she became acquainted with, among many others, Paul Éluard, Max Ernst, Georges Bataille, Henri Cartier-Bresson, Picasso, André Pieyre de Mandiargues, and Salvador Dalí.
In the 1970s, she wrote three novels, Rogomelec, Moumour, Contes pour enfants velu and Oneiropompe. Her friends included Jean Cocteau, Giorgio de Chirico, and Alberto Moravia, Fabrizio Clerci and most of the other artists and writers inhabiting or visiting Paris. She illustrated many works by the great authors and poets, including Edgar Allan Poe, Charles Baudelaire and Shakespeare, as well as texts by new writers. She was very generous with her illustrations and donated many drawings to writers to help them get published. She is, perhaps, best known for her graphic illustrations for
Histoire d'O
.
It has been said about her that she is the only artist to paint women without apology. Many of her paintings feature strong, beautiful women (many times resembling herself) in ceremonial or provocative situations. Men are often portrayed as lithe figures who are under the protection of her females. The sphinx and cats play major parts in her paintings, as does the theme of 'the double'. She was equally adept at etching, drawing, watercolor and oil painting. She lived with many cats; up to a total of 23 at one time. The illness of one of her cats could send her into a deep depression.
http://en.wikipedia.org/wiki/Leonor_Fini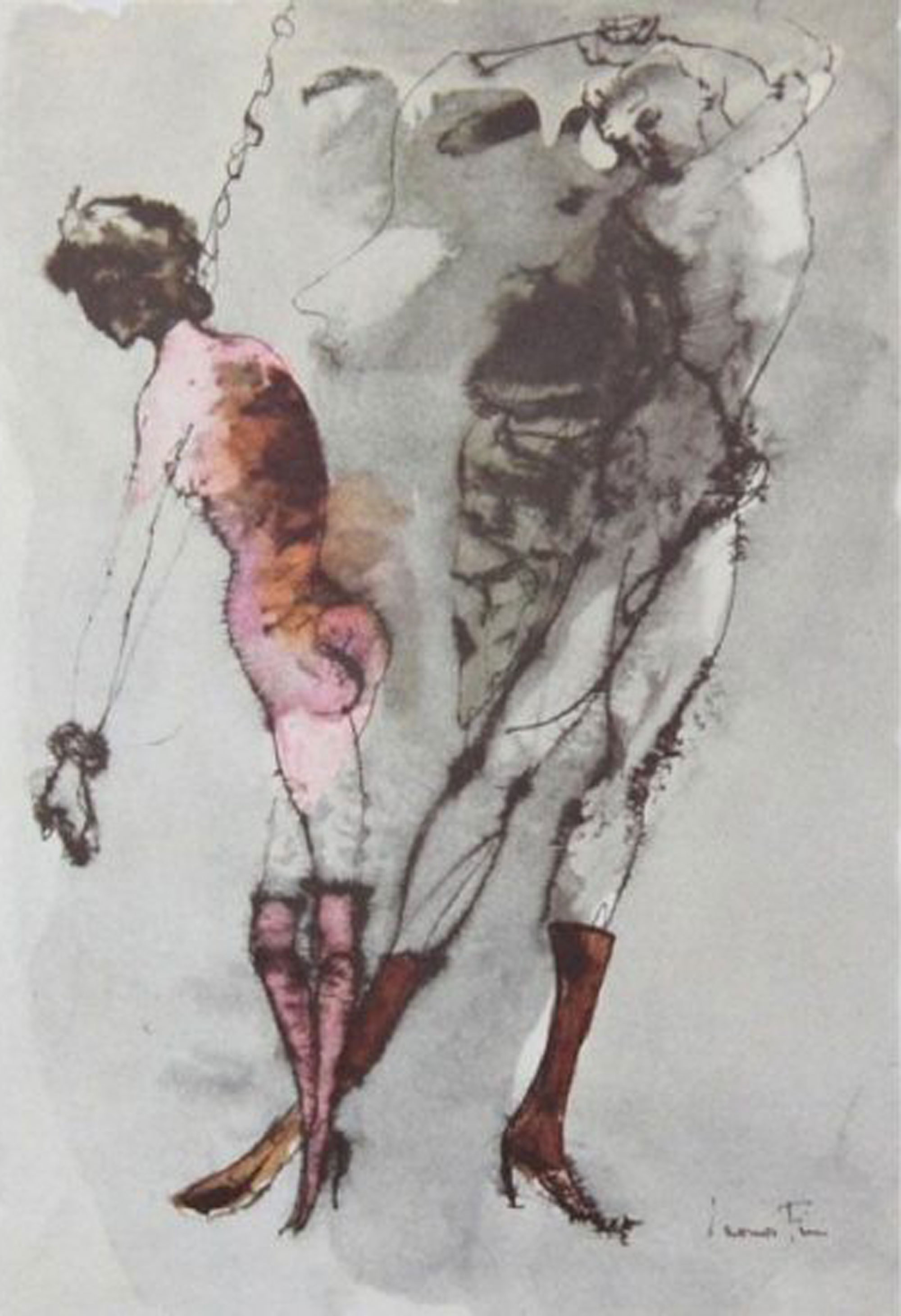 Illustration pour Histoire d O-Pauline Reage
, 1968
Born in Buenos Aires, Leonor Fini moved to Trieste as a girl when her parents separated. After holding her first solo exhibition in Milan in 1929, she relocated to Paris in 1931. There she quickly insinuated herself among the artists of the Surrealist movement, exhibiting with them in 1933 and holding her first one-person show in Paris in 1935. As a result, she became very close friends with a number of the major surrealists, including Pablo Picasso, Salvador Dali, Eugène Ionesco, Georges Hugnet, Georges Bataille, Max Ernst, Paul Éluard, and Giorgio de Chirico. A prolific libertine, Fini provided some of the material for Pauline Réage's novel Story of O. According to her obituary in
The Guardian
:
At one gallery opening she wore a beautiful Siberian wolf-fur coat, which she had exchanged for a painting. When someone suggested it was rather warm for such clothing, she opened her coat to reveal that she was naked. George Hoyningen-Huene photographed her dressed in nothing but black feathers. In 1937 she designed the Shocking scent bottle in the shape of Mae West's torso for Schiaparelli, and exhibited her own furniture.
Fini lived for forty years in a menage-a-trois with Count Stanislao Lepri and Constanine Jelenski. She kept a large number of cats -- as many as 23 at a time -- which she would take with her when she travelled.
http://www.nndb.com/people/419/000082173/
Illustration pour Histoire d O-Pauline Reage
, 1968
Leonor Fini's art offers a woman's take on surrealism, which large dealt with male fantasies, by offering a female view of the female body and of erotic pleasures. Fini was one of the more international figures of the Surrealist movement. She was born in Argentina, raised in her mother's home town of Trieste, Italy, and spent most of her artistic life in Paris, where she had her first one-person show in 1932 (her first one-person show took place in Milan at the Galerie Barbaroux in 1929; her first one-person show in Paris was at the Galerie Bonjean in 1932). Although she was friends with many of the leading surrealists (including Paul Eluard, Max Ernst, Rene Magritte and Victor Brauner), she never formally joined the movement though she did include her works in several of their International Surrealist Exhibitions. After the Second World War, she had many one-person shows in Europe and America (plus a major retrospective in Japan in 1972). Although she is best known for her paintings, prints, and drawings, she also created stage designs for operas and ballets including one of her own, Le Rêve de Leonor (1949), which was choreographed by Sir Frederick Ashton and performed to music by Sir Benjamin Britten. Fini's works are to be found in many important collections of modern art. Her obituary in
The London Times
stressed her physical beauty, her erotic art, and her legions of lovers, whose names "read like a roll call of the literary and artistic talents of that brilliant age."
http://spaightwoodgalleries.com/Pages/Fini.html