Wolfgang Riechmann
started his musical career in 1966. After playing in a school band with Michael Rother and Wolfgang Flür, later famous with Kraftwerk and Neu!, he then became member of another Düsseldorf band called "Streetmark". It was end of 1977 when Riechmann started working on his solo career.
The result was the LP
Wunderbar
which was released on SKY Records. Unfortunately he did not experience the release. In August 1978 Riechmann was killed - without any reason - by two drunk guys, who stabbed him to death.
http://www.discogs.com/artist/Wolfgang+Riechmann
Wunderbar is a wunderful album. If you like Man Machine era Kraftwerk then you'll love this. Wolfgang looks extremely cool on the cover despite wearing blue lipstick (I kid you not !)
In the 60's Wolfgang was in Spirits of Sound with Wolfgang Flur later of Kraftwerk. In the 70's Wolfgang played a major role in Streetmark's classic album 'Eileen'. However, 'Eileen' was not a huge commercial success and so Wolfgang was full of doubts about his own abilities when he set about recording Wunderbar.
The opening track of the album is the title track 'Wunderbar' which is ultra-catchy. They must put something in the water in Dusseldorf which results in superb melodies.
Another standout track is 'Siberland' which is effectively a slowed down version of Kraftwerk's 'Metropolis' from Man Machine. The parallel here is interesting as Man Machine and Wunderbar were both recorded in 1978, although I don't know which one hit the shops first. Who is copying who?
'Himmelblau' would not sound out of place on a La Dusseldorf album. Clearly Dinger and Rother have based their whole career around songs which feature the words 'La' and 'Dusseldorf'. In the case of 'Himmelblau' Riechmann goes one step further by only using the word 'La' in the lyrics. Simplicity is best.
The album finishes with a short omninous sounding instrumental. Sadly, shortly after Wunderbar was recorded Wolfgang was murdered (having been stabbed in a Dusseldorf barroom brawl). This is a great shame as judging by the evidence of Wunderbar, Wolfgang could have gone on to great things.
Julian Cope
http://www.headheritage.co.uk/unsung/review/487/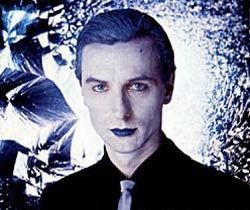 On his first and, regrettably, last recordings as a solo artist, Riechmann was in an eclectic mood. Distant echoes of the so - called Berlin School (Tangerine Dream, Klaus Schulze and the like) can be detected on Wunderbar, as well as the clear influence of the so - called Düsseldorf School (NEU!, Kraftwerk, La Düsseldorf). Not that Riechmann was attempting to copy their styles in any way. Whilst contemporary influences need not be denied, Wunderbar hints at the direction he would take in terms of sound and composition, reflecting a powerful, independent musician's personality, one which would have caused quite a stir, had it been given the chance to unfold. This unmistakably optimistic music is characterized by simple sequencer and drum patterns, with Riechmann adding his own highly individual layers of harmony. And then there are the melodies: simple, sometimes to the point of being simplistic, but never naive. »Wunderbar« is modern, electronic pop, in a league with Kraftwerk and NEU!.
http://www.bureau-b.com/infotexte/Riechmann.Wunderbar.Bio.engl.pdf
Wunderbar is Wolfgang Riechmann's only album and consists of progressive electro- pop not too unlike the work of Kraftwerk, only less mechanic. Wunderbar is much spacier and airy than Kraftwerk's music, as well a bit more optimistic in tone. Each track on this albums is very close to the sound that Tangerine Dream was accomplishing on Phaedra, with the catchy melodies and steady slightly-bassy sequencing, only these tracks are much shorter.
Some of the tracks on Wunderbar sound too similar to each other, giving this album a negative quality of redundancy, which leads me to believe that Wolfgang Reichmann ran out of steam due to lack of creative ideas - the reason why this is his only album. But the reason for this being his only album is much more unfortunate - he was stabbed and killed before this album was even released.
colorofmoney91
http://www.progarchives.com/artist.asp?id=3123#reviews