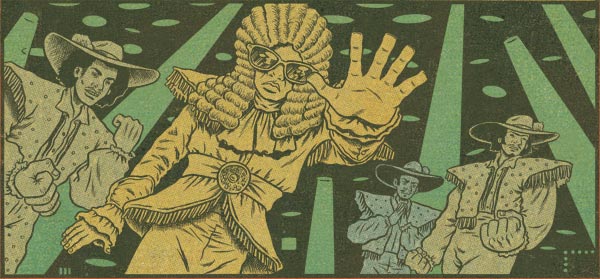 Jonzun Crew was an electro and early funk–hip hop group that was active in the 1980s. The group was led by Michael Jonzun, his brothers Maurice Starr and Soni Jonzun, and Carl (Captain Fingers).
The group's most famous tracks, "Pack Jam (Look out for the OVC)," "Space is the Place," and "Space Cowboy" were featured on the group's debut album, Lost in Space (1983). Other notable tracks included "We Are the Jonzun Crew" and "Ground Control." The group's sound was particularly unique because all of the synthesizer parts were played live as opposed to sequenced, and despite using drum-machine hits in its tracks, most of the group's songs used a live drummer as the main drum track, giving its songs a unique groove and swing compared to most electro music of the era.
http://en.wikipedia.org/wiki/Jonzun_Crew
Jonzun Crew was an electro group who carried their spin on Parliament/Funkadelic's loopy sci-fi themes throughout the '80s and early '90s for a handful of albums, which included singles like "Pack Jam (Look Out for the OVC)," "Space Is the Place," "Space Cowboy," and "We Are the Jonzun Crew." Florida-born brothers Michael, Soni, and Larry Johnson (better known as Maurice Starr) formed Jonzun Crew in Boston in 1981, with Gordy Worthy and Steve Thorpe filling out the lineup for different stretches of the group's existence. Starr and Michael would gain further notoriety for helping to bring New Edition and New Kids on the Block to the world; Michael (who continued using Jonzun as his last name) also went solo for a brief period on A&M, in addition to working on several other artists' releases.
Andy Kellman
http://www.allmusic.com/artist/the-jonzun-crew-mn0000257771/biography
Despite including most of Jonzun Crew's best tracks, their debut album, Lost in Space, wasn't a successful LP. The Boston group with roots in funk were lousy songwriters at this point (more was to come from Maurice Starr), and what's worse, they insisted on writing songs instead of sticking with solid electro party jams like their singles classics "Pack Jam" and "Space Is the Place." Admittedly, the process did pay minor commercial dividends; "Space Cowboy" became a moderate R&B hit, though its electric interpolation of the trademark whistle from "The Good, the Bad & the Ugly" was hardly the stuff of legend. They sounded appropriately cool on the opener "We Are the Jonzun Crew," but the rest of the non-singles material was stiff and formulaic. Far better to find Jonzun Crew's two landmarks on an old-school/electro compilation. A 2001 reissue on Tommy Boy enticed consumers with two bonus tracks, one of which was Grooverider's drum'n'bass update of "Pack Jam (Look out for the OVC)."
John Bush
http://www.allmusic.com/album/lost-in-space-mw0000243284
Whatever you wanna call this: electro boogie or space soul or what not, the break dancers of today are still getting their groove on to tracks like "We Are The Jonzun Crew", and so they are succeeding in their intent, that is told to us in the chorus: "we are the Jonzun Crew / we are from your planet too / we are the Jonzun Crew / we want to rock you". To us this does not sound too spaced out anymore, having been conditioned to years of electronic music. If you are a serious hip hop head, then you will also have witnessed at least one break dance battle, if not even participated. And so you will have heard songs like this one. You know the style. But surprisingly enough, we don't really consider this music to be for home enjoyment.
However, these tracks can be your home entertainment. They are much more than cheap background tracks for ancient aerobics videos. As if one thing can be found in each of these tracks, then a certain happiness. A "Space This Place" is not really dark. But it has your heartbeat follow this pace, and if you allow it to, it will actually give you a feeling of being carried off into areas of this galaxy, that with its glistening stars gives you one of the most thrilling sight seeing tours possible. Now by the way, if you care to read the liner notes to this track, you will see a name that should be familiar: John 'Jellybean' Benitez. And if you don't know who this is, then do your thorough history lesson.
tadah the byk
http://www.urbansmarts.com/reviews/albums/jonzuncrew.html
Something that really makes the Jonzun Crew tracks stand out is that despite their heavily electro sound of synthesizers, keyboards and vocoder vocals, they were using live drums in a lot of their classic tracks, with some drum machine hits worked in too. They might sound like synthetic drums, but Pack Jam, Space Is The Place and We Are The Jonzun Crew are all based on live drum tracks, which is where they get their unique groove and swing, and on top of that all the synthesizer parts are played live too, making up a sound that Michael Jonzun described as 'space funk'.
Check out their outfits — fans of a certain french duo of robots might find the look strangely familiar. Daft Punk may be dressed by Hedi Slimane, but I'd say their robo-fashions owe more than a passing influence to old school cats like the Jonzun Crew, Space and Kraftwerk.

The Jonzun Crew imagery — classic inspired costumes complete with Beethoven and Mozart style powdered wigs, with ruffled shirts and flamboyant suits were the work of New York stylist and fashion designer Jesse Harris.
Cold Crush
http://coldcrush.com.au/electro_sydney/electro_funk/80s-electro-funk/jonzun-crew-we-are-the-jonzun-crew-pack-jam-michael-jonzun/