You Are The Ref
is a British comic strip featuring a series of awkward football refereeing challenges, which has run in various publications since 1957. Created by sports artist Paul Trevillion, also famous for Roy of the Rovers, the strip features contributions from several top referees, and was collected into an official book in 2006. Since 2008, it has appeared online at Guardian.co.uk.
http://en.wikipedia.org/wiki/You_Are_The_Ref
You Are The Ref
- the cult classic cartoon strip responsible for 90 percent of all 1970s playground rows - made its newspaper debut in 1957. Featuring a series of hardcore refereeing dilemmas, it demands you react instantly and accurately to the situations you face.
The strip's original artist, comic realism legend Paul Trevillion, and the Premier League's Head of Referees Keith Hackett agreed to bring YATR back to life in The Observer's sport section in 2006, and it went live online here for the first time in August 2008.
Paul Trevillion
Age:
74.
Born:
London.
Main job:
Artist.
Started young, drawing for comics like Eagle and TV21 while he was still at school. His work has appeared in most national papers, and has been syndicated worldwide. Famous for Roy of The Rovers, he's also the author of more than 20 books, and has met and drawn countless sporting greats from Pele to Sugar Ray Robinson and Wayne Rooney. He's rated the world's top proponent of "comic art realism". Disney animator Milt Neil said it took "20 Disney drawings to produce the movement Trevillion captures in one".
Other roles:
Trevillion's non-art life so far: a stand-up career supporting Norman Wisdom and Bob Monkhouse; a brief record deal; being crowned world speed-kissing champion (25,009 in two hours); meeting and drawing Winston Churchill; devising a spilt-handed putting technique; drawing Evonne Goolagong in the nude for The Sun; inventing sock tags for Don Revie's Leeds team; and dressing up as DJ Bear, the Panda of Peace, in the 1980s, to pacify hooligans and spread love in the game. As a result he has no nasal bone.
http://www.theguardian.com/football/2008/aug/07/football.ref
Shoot
magazine (during my formative years),
Roy of the Rovers
and
The Observer
has been terrifically well served by this lavish artefact, authored by Keith Hackett, official at the classic two game FA Cup Final between Spurs and Manchester City in 1981 and later to become overall assessor of the breed.
He's joined by long-time collaborator Paul Trevillion – and it's this man's illustrations that really give the book its punch – to this reader at least, turning the page to see David Moyes and Lionel Messi in graphic format confirms the update when one almost expects to see a toothless Joe Jordan in a Scotland shirt or Don Revie barking from the sidelines.
That said, the old adage that referees should be seen and not heard is perhaps weighed up by the meat and two veg central sections of the book with the laws of the game expertly trawled through even if the accompanying drawings are generic and don't feature recognisable players. Needless to say, this is a part of the book you'd refer to rather than read.
So it's the accompanying material that really holds the interest – a couple of anecdotes from Hackett on refereeing stateside including one in which the Portland Timbers lumberjack gets a mention as well as slightly matey pen pics of players and managers he has come into contact with including the laptop wielding, Prozone touting Sam Allardyce and Neil Warnock, of whom Hackett understates, 'I must say that at times we failed to agree on certain incidents'.
Lanterne Rouge
http://thetwounfortunates.com/book-review-you-are-the-ref/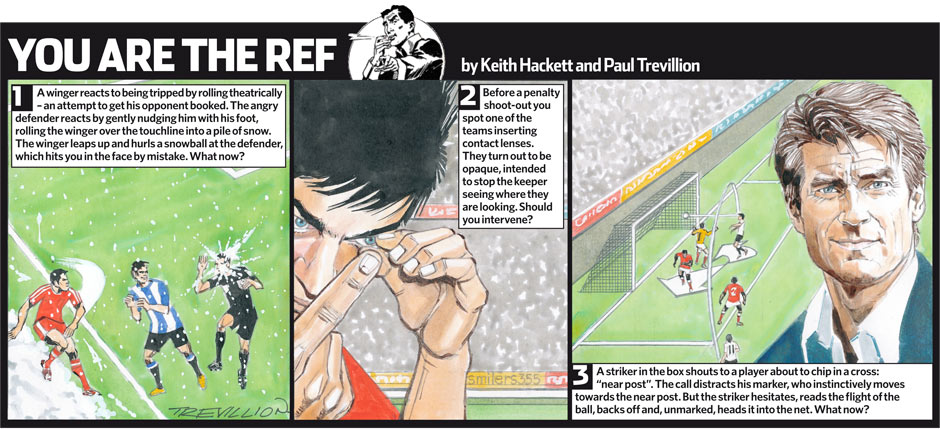 In the future, everyone will be a referee for 15 minutes. Ruud van Nistelrooy's goal for Holland against Italy at Euro 2008 not only prompted a fervent discussion about the offside laws, it also exposed the fact that players, ex-players, pundits and fans alike for once had something in common – very few of us are truly familiar with the laws of the game. By a nice coincidence, the BBC website chose Euro 2008 to revive the You Are The Ref column that puts exactly such unusual scenarios to its reader, and then lets them get on with exposing their own ignorance.
There's actually no excuse for not knowing the game's laws. They're available for download from fifa.com in a pdf file, and they're not that long. Still, they leave plenty of room for interpretation, and with major games nowadays under the scrutiny of a dozen or more cameras, there always seem to be an arcane point up for debate, even if some of those are the result of commentators eager to stoke up a quasi-controversial incident.
The People newspaper began You Are The Ref in 1957, then for years Shoot! magazine continued the illustrated column, drawn throughout its half century of life by Paul Trevillion. If I remember correctly, some of its conundrums were easy, and were aimed at familiarising the young reader with the game's laws. Some were just odd, which gave the column a trainspotterish charm. If a mongoose runs on to the field of play and diverts a shot into the net, do you award a goal? That kind of thing.
The great thing about this column is that even after Mr Hackett has given his opinion, the debate continues in the comments. You suspect that several referees read the site. "I have this terrible feeling that the man in charge of our referees doesn't actually know the Laws…" writes one respondent. But in truth most of the pre-supposed scenarios are unusual enough that referees might have to think on their feet and instinctively react in a commonsense manner. As opposed to recalling the exact letter of the law and applying it to, say, the following query: a goalkeeper and a defender waste time by playing header-and-catch to each other on the edge of the penalty area. Legal it might be, but few refs are going to stand there and let them continue without making a gesture of admonitory impatience to move the ball upfield.
What I like about You Are The Ref is the fertile footballing imagination of those who send in their "What if...?" queries. If you go to the official site of the US Soccer Federation, they have an Ask The Ref section that is taken very seriously by both those asking questions and those giving answers. Most of the queries are based on real situations and require so much concentration to follow the acronym-filled paragraphs of build-up to the situation in question that you'll be put off for good from training for your official's badge.
In fact it's quite terrifying to picture yourself in some of these situations, with 22 expectant players, their coaching staff and any number of spectators (including possibly rabid parents) waiting for you to make the snap decision, which must appear to be the correct one. Often, several or all of these people will be offering their own advice and interpretations of what's just happened, and anyone who's taken the whistle for a seemingly casual game will be familiar with the sudden noise and pressure.
Until we read the ref's advice underneath the query, though, most of us generally can't be sure of the answer. We may immediately recognise the advice as correct, but would we have made the right decision in half a second? In that respect, these are entertaining and useful pages that players and fans should read. The internet, after all, is as much about education as it is about leisure, and given the overall deficit of knowledge on even some of the game's basic laws, should serve as homework for all of us who instinctively love to scream at that poor bastard in the middle.
Ian Plenderleith
http://www.wsc.co.uk/the-archive/15-Webwatch/4443-you-are-the-ref