Tin Tin I, 2004
Lucy McKenzie
(born 1977, Glasgow, Scotland) is an artist based in Brussels, Belgium.
McKenzie studied for her BA at Duncan of Jordanstone College of Art and Design in Dundee from 1995–1999 and at Karlsruhe Kunstakademie in Germany in 1998.
She is currently a professor of painting at the Kunstakademie Düsseldorf.
http://en.wikipedia.org/wiki/Lucy_McKenzie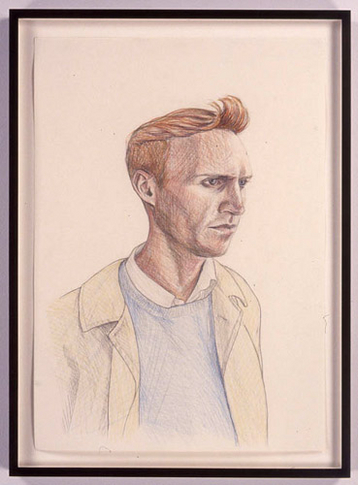 TinTin 1
, 2005
Strongly evoking the illustrational style of Hergé, the Belgian creator of the Tintin cartoons, on the one hand, and Mondrian et al on the other, McKenzie seems to be on the hunt for old-world and European ghosts, which are somehow embedded in the architectural and illustrational spaces that her lanky characters wander through. From her location scouting to her actual rubbing of concrete slabs and stones, this immersion in surface and space takes on a latently visceral tone.
Sari Care
http://prod-images.exhibit-e.com/www_metropicturesgallery_com/64cf2692.pdf
"Untitled" for Parkett 76
, 2006
At her recent exhibition at Metro Pictures, New York, McKenzie exhibited large canvases influenced by Hergé's Tintin comics. In some of the works on paper Tintin's cartoon body is 'naturalised', with his flat pink skin tones softened and given a more recognisable Caucasian hue. Elsewhere, characters form the artist's life are translated into Hergé-like caricatures. Again, styles and histories are re-appropriated and made to temporarily and awkwardly sit in the present. This demonstrates not only that art history is 'made', but that subjectivity and personal history are also myths that we generate after the fact.
Alexander Kennedy
http://www.list.co.uk/article/232-lucy-mckenzie/
Cheyney and Eileen Disturb a Historian at Pompeii
, 2005
Created in 1929 by Belgian artist Herge, Tintin-preposterously cowlicked journo-adventurer who moved, Zelig-like, through most of the midtwentieth century`s geopolitical hotspotsis, of course, a cartoon. But there he was in McKenzie`s show, fleshed out with eerie naturalism in a group of colored-pencil portraits that depict him posing rakishly in plus fours and trench coat. In fact, McKenzie`s subject in these works was her boyfriend, dressed up in Tintin costume but substituting a brooding intensity for the original character`s perpetually callow mien, as if the dismal and antiheroic trajectory of modern history had finally sunk in.
A trio of giant, colorful ink-and-acrylic works on paper-Lucy and Paulina in the Moscow Metro (Ploschad Revolutsii), Cheyney and Eileen Disturb a Historian at Pompeii, and Simon in Fort Greene (all 2005)-neatly invert the modus operandi of the Tintin portraits: Instead of depicting a cartoon made flesh, they show McKenzie`s friends reimagined as cartoons. Rendered with a graphic flatness that recalls ligne claire, the influential illustrational style that Herge pioneered, Paulina whistles (or rather, emits a musical note in a speech bubble) as she strolls beneath the Stalinistbaroque vaults of the metro station; a professorial type in a brown suit does a double take as he spies Cheyney and Eileen behind him in a fresco-filled interior; and Simon gazes moodily at the sidewalk on a nocturnal Brooklyn street. Also on view were a group of droll black-and-white illustrations McKenzie contributed to a self-consciously twee Edinburgh broadsheet called The One O`Clock Gun, matted and framed with pages from the paper; a number of languid, seminude pencil studies of the artist`s female friends; and big chalk-and-charcoal abstractions that transform rubbings taken from urban pavements into grisaille de Stijl grids.
Elizabeth Schambelan
http://www.mutualart.com/OpenArticle/LUCY-MCKENZIE/3B8BE90CDEDD4E4F